About Hog Tide BBQ
Hog Tide Bar-B-Que is a fast casual, destination restaurant providing diners in southwest Missouri with a competition style, pit-to-plate, BBQ experience. The restaurant will feature a menu based on USDA prime grade smoked meats, paired with a deep selection of award winning sides and desserts.
Bar-B-Que has been a McNatt family tradition for three generations. In fact, it dates back to 1934 when a famous southern Bar-B-Que recipe was handed down to Grandpa (Eldon) McNatt. Grandpa subsequently began to offer it in his SW Missouri restaurant(s). Soon the popularity of Grandpa´s Bar-B-Que spread and the family became a frequent caterer to the community. While many have tried to purchase the recipe, the family has kept it a secret.
About Drew McNatt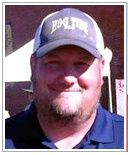 Drew Mcnatt started the Hog Tide Bar-B-Que Competition Team in 2006 and has since became a widely recognized and highly decorated pitmaster.
A sampling of awards include: American Royal World Champion Brisket, 2nd Runner-up - American Royal, KCBS #1 world ranked brisket, Invitation to the King of the Smoker (top 24 pitmasters in the world), KCBS #1 world ranked ribs, 30+ grand championships, 15+ reserve grand championships and 4 invitations to the prestigious Jack Daniels World Championship of BBQ. Hog Tide Bar-B-Que finished 2013 ranked top 10 in every meat category in the KCBS world rankings; in the top 20 for every meat category in 2014; and the top 25 for every meat category in 2015. Mr. McNatt is currently sponsored by Clorox and is an official Kingsford pitmaster. Drew is also the current national spokesman for Premier Proteins. Previous sponsorships include Royal Oak Charcoal, the Head Country BBQ Company and Brinkman Smokers.

Awards
- 30+ Grand Championships
- 15+ Reserve Grand Championships
- 2012 American Royal, Runner-up (700+ teams)
- 2013 Kansas City Barbeque Society Brisket Team of the Year
- 2013 #1 World Ranking Brisket
- 2013 World Champion Brisket, American Royal
- 2013 King of the Smoker (Top 24 pitmasters in the world)
- 2014 Kansas City Barbeque Society Rib Team of the Year
- 2014 #1 World Ranking Ribs
- 2015 Reserve Grand Champion Colorado Rockies MLB Invitational (Top 30 pitmasters in the world)
- 2016 American Royal Invitational, Fourth Runner-up
- Top 3 at USA BBQ Championships in Consecutive Years
- Multiple Invitations to the Jack Daniels World Championships of BBQ
- Consecutive Invitations to the World Food Championships